26th September 2009 - Zapcat Racing - Watergate Bay
Championship presentations.
Watergate bay near Newquay, home of the Extreme Academy is the venue for the final two heats of the Zapcat racing season.
Sponsor flags fly.
At the end of the day is the presentations and a group photo oppertunity.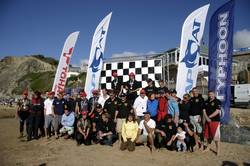 Division Two and Division One heat 14 winners.
Champions Craig Davis and Rob Martin from Blue Sheets racing 1.
At he end of the bay the beach returns to the surfers.