5th September 2009 - European Open Surfboat Championships - Run to the flag.
Tolcarne beach, Newquay is the venue for this years championships. For each heat the surfboat starts from the shore and a team of 4 plus the sweep row out over the breaking surf to a mark. Turning at this mark they then row or surf back to shore. One of the crew then has to get out of the surfboat and run to a flag. The first to touch their flag wins the heat.
These are images of the runners racing to touch the flag and win the heat.
As soon as the surfboat is in shallow water one of the crew jumps out and races up the beach.
There are six flags, one for each lane and the runner has to touch their lane flag to finish.
Quite often the surfboats do not end up in their correct lane, so boats and runners cross.
First to touch the flag wins the heat.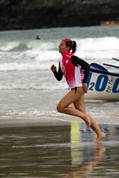 You get a different perspective looking down onto the beach from the cliff path.