A38 Dobwalls Bypass
Welcome to my project "home page" for documenting the construction of the A38 Dobwalls bypass. This is a subsite of my main site, Fozimage.
Now the official opening ceremony has taken place, the bypass construction and my project to photograph the work involved have both come to a conclusion.
Thank you for your feedback over the past two years, please continue to use the links to see how our bypass was constructed.
** News flashes **
Thursday 23rd April 2009 - Official opening ceremony.
Sunday 15th February 2009 - traffic starts to use the western lane of the new A390.
Friday 19th December 2008 - all the cones removed and the bypass is fully open.
Saturday 20th September 2008 - a major part of the bypass has been opened to traffic.
A little bit of history...
The "first" set of traffic lights since the M5 ends in Exeter, some 64 miles east of our village.

- Summer queues of cars, lorries and caravans.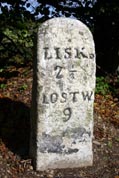 - A Saturday "one way" system using the A390.

The A38 through Dobwalls in East Cornwall has become a notorious bottleneck. The villagers of Dobwalls will tell you that they have been waiting for over 50 years for a bypass to relieve the village from the constant traffic queues.
Following years of "yes there is" "no there is not" funding, and a number of alternative routes, the Highways Agency held a public enquiry in January 2006.
On the 25th August 2006, The Sectetary of State for Transport and the Secretary of State for Communities and Local Government jointly accepted the Inspectors final report and decided to proceed with the published scheme.
Interserve have been appointed by the Highways Agency for the design and construction of the bypass through an Early Contractor Involvement project.
The official start of the £42m scheme was made when the Roads Minister Dr Stephen Ladyman visited the site on 7th February 2007.
Work started very quickly after this announcement and as I live close by, I decided that I would document the scheme as it progresses.
Regards
Ian Foster